Daniel Handler, better known as Lemony Snicket, has written a poignant and witty YA tale of adolescent heartache called Why We Broke Up.
By Martin Chilton, Digital Culture Editor
Remember Norm, the tubby barfly from Cheers? He joked: "Once the trust goes out of a relationship, it's really no fun lying to 'em anymore."
You fear a deceitful heart is at play from the very start of Daniel Handler's novel for teenagers called Why We Broke Up.
Handler is a 42-year-old American author, screenwriter and musician (he plays the accordion) best known for his books under the pen nameLemony Snicket. A new four-book Lemony Snicket series, All The Wrong Questions, launches in October with the first book, Who Could That Be At This Hour?
Why We Broke Up (published now in the UK by the Egmont imprint Electric Monkey) is written for an older audience than the Snicket series. It's not giving the game away to reveal that the relationship between high school junior Min Green (short for Minerva, Roman goddess of wisdom) and Ed Slaterton, a senior, is doomed. We are shown the love affair's collapse from the start of the book, and the break-up is explained in small fragments - the "prizes and debris" which Min has kept as mementoes in a box and which she is about to dump back on her former love's doorstep. Each chapter starts with a gorgeous illustration by Maira Kalman of one of the items.
Handler's descriptions are witty - it was a relationship "doomed like a wineglass knowing it'll get dropped someday" - and his main character is an engaging, imaginative and quirky girl. Although it seems an unlikely match - Ed is vice-captain of the basketball team and a renowned school 'jock' - Handler sensibly makes him articulate, convincingly romantic and a mathematics whizz. He's artful and has worked out all the angles.
Ed's friends are bemused that he is so besotted with Min, while her friends laugh at his self-regarding and crass behaviour. Some of the dialogue fizzes with irony as her knowing friends mock the confident, handsome basketball 'jock'. "Doesn't he have a sister?" Min's friend Lauren says. "Think of both of us dressed together for the bridal party! In plum!" Plum. Nice touch.
The arch descriptions of teenage life are also witty. In one riff, Min says of her school:
"Call this number on the bulletin board, call if you've been abused, if you want to kill yourself, if you want to go to Austria this summer with these other losers in the picture."
The dialogue is presumably true to young American college life (Einstein had 'gay hair', comments Ed) and one of the book's many delights is that Min keeps making film references - especially to the pre-war work of Lottie Carson in Greta in the Wild. The fact that the movies and stars are all made up serves, curiously, to make them seem all the more real.
Being true to the world of adolescence, adults barely register in the novel. Min's father is an anonymous presence who 'never calls' but when adults do make an appearance (as with Ed's older sisters Joan) they deepen the drama. You feel for the helplessness of Min's mum when she reveals her fear that her daughter is in danger of getting hurt and is being "led around, like, like somebody's goat".
Ultimately, Min is no-one's fool. She realises - after she has lost her virginity, it's true - that it is Ed's "ease and expertise" in a tricky social situation "that made me nauseous". She then finds out what has really been going on. Why We Broke Up is a poignant tale of adolescent heartache - and yet it is oddly hopeful.
Why We Broke Up by Daniel Handler, illustrated by Maira Kalman (Electric Monkey)
(via langleav)
New weekend playlist! :) Finally got the time to chill with just me, my laptop, and my bed today :>

1. Thinking Out Loud - Ed Sheeran
2. It's not Over Yet - for King & Country
3. Slow Light Down - Buddy
4. No Shows - Gerard Way
5. Latch - Daniela Andrade
6. Move Slower - Mammals
7. Make This Leap - The Hunts
8. Bang Bang - Jessie J, Ariana Grande, Nicky Minaj
9. Chandelier - Sia
10. Girls - The 1975
Somehow in the lives of most heterosexual females, it seems that everything always ends up being about boys. How to be the girl who guys want to marry, date; the girl who guys want to want. I know independent, brilliant, educated, talented, successful women, and no matter how much of these things we are, what guys want us to be is in our subconscious as a matter of social conditioning, if nothing else. John Berger's now classic article, "Way of Seeing," which was my first academic introduction to the male gaze, states that, "Men look at women. Women watch themselves being looked at." And we do; well, in the spirit of non-generalizing, let's just say I do.
But what does this have to do with dating rules? I think it has everything to do with dating rules. Men are the ones that are looking at women and are doing so from a position of power. Women are watching themselves being looked at and doing so powerlessly. We perpetuate and maintain these positions because of our socially constructed concepts of gender roles. And from these, we develop rules. And although these rules are at least subject to disagreement, dissent, and flat-out rejection these days; they are still the default logic for many of us. Our rules include that guys must make the first move, they must be the aggressive ones; guys must lead. And women, well, we should be more passive and gentle and allow the man to lead of course.
I consider myself someone who is fairly cosmopolitan and modern in a lot of ways yet when it comes to guys, I retreat to these customary dating expectations under the guise of being a "traditional girl." And there's nothing wrong with being a "traditional girl" if that's what you want, but there is something wrong with thinking that this is the only way it should be. Women have to dance around and play this game and be this supposed girl that guys "want to end up with" even if we would be faking it to do so. And the more I think about these rules, the more I question them; and the more I question them, the less I would like these rules to be our default logic.
Take the well-known, "He's just not that into you if he's not asking you out" rule. But, what about her? Why is she not asking him out? And I have definitely come across many guys who have wanted to ask girls out but they thought that the girls weren't into them for one reason or another. But what if the girls were into them? What if the girls were into them but were waiting for the guys, "to lead." What if the girls solely abided by, "He's just not that into me because he's not asking me out," and then decided to move on? My point is following dates rules can cause people to miss out on each other because we're playing these games and abiding by supposedly unwritten natural laws to maintain the status quo. And I get it, conventional is safe. But does it always work? I don't think so.
There is nothing in nature that explicitly indicates that a guy should be the one to ask girls out. Or make the first move or any of that jazz. Something also tells me guys today are a little confused. Women have come a really long way in the last century and their mentality has changed a lot. They can be assertive and aggressive in many facets of life. I know I am. So to all of a sudden cower into this, "traditional girl" who is waiting around for the guy to ask me out is well, bewildering. It's mixed signals. And I can tell you fist-hand that this "let the man lead" thing has never really worked for me. Granted, I like a man who can lead but sometimes you literally have to grab a guy and show him the way. Because there's different kinds of guys just as there are different kinds of girls. And you'll just never know what kind will give you those butterflies in your stomach when they're around. So you've got to work with what you've got and be willing to change as needed.
Dating is confusing. Men are confusing especially when you like them. And yes, women are confusing too. But do we have to complicate the matter further by creating rules and then calling them unwritten? Rules are for sports games and hotdog eating competitions, not people who are interested in other people romantically. Stop waiting for him to text or call you first if you want to call him first. Stop waiting for her to give you a sign and give her a sign — a clear, unequivocal, sign. Men — man up and women — woman up; and let's forget about what we think are the dating rules, and dare to write our own.
Wrote this today. Hope you like it xo

***Please support my writing by pre-ordering a copy of my new book Lullabies, now 30% via Amazon,BN.comor get FREE Worldwide Shipping at The Book Depository.
Aww this! 3
A Photographic Tour of Sherlock's London

For a deeper view into London's most popular landmarks and buildings, check out the #londonsights hashtag on Instagram. To follow "Sherlock" at the 2014 Emmys, browse the #Emmys hashtag.

To fans of the novels and the BBC series, the locations featured in the Sherlock Holmes stories are almost as iconic as the characters themselves.

The most famous of all is 221B Baker Street, the home of Sherlock Holmes and John Watson. Although London's official Holmes museum now bears that number, the address was completely fictional when Sir Arthur Conan Doyle published the first "Sherlock" novel in 1887—building numbers on Baker Street did not yet extend that high. The flat shown on the British television show is actually located on the much-quieter North Gower Street, near Euston station.

Next door to Sherlock's imaginary home is Speedy's Cafe, a frequent filming spot for actors Benedict Cumberbatch (Sherlock) and Martin Freeman (Watson). Speedy's is a real restaurant and a destination site for super-fans—they even have a Sherlock-themed wrap on the menu. Another notable filming location for the television series is St. Bart's Hospital in Smithfield, the oldest hospital in Europe and backdrop for Sherlock's final showdown with arch-nemesis Moriarty.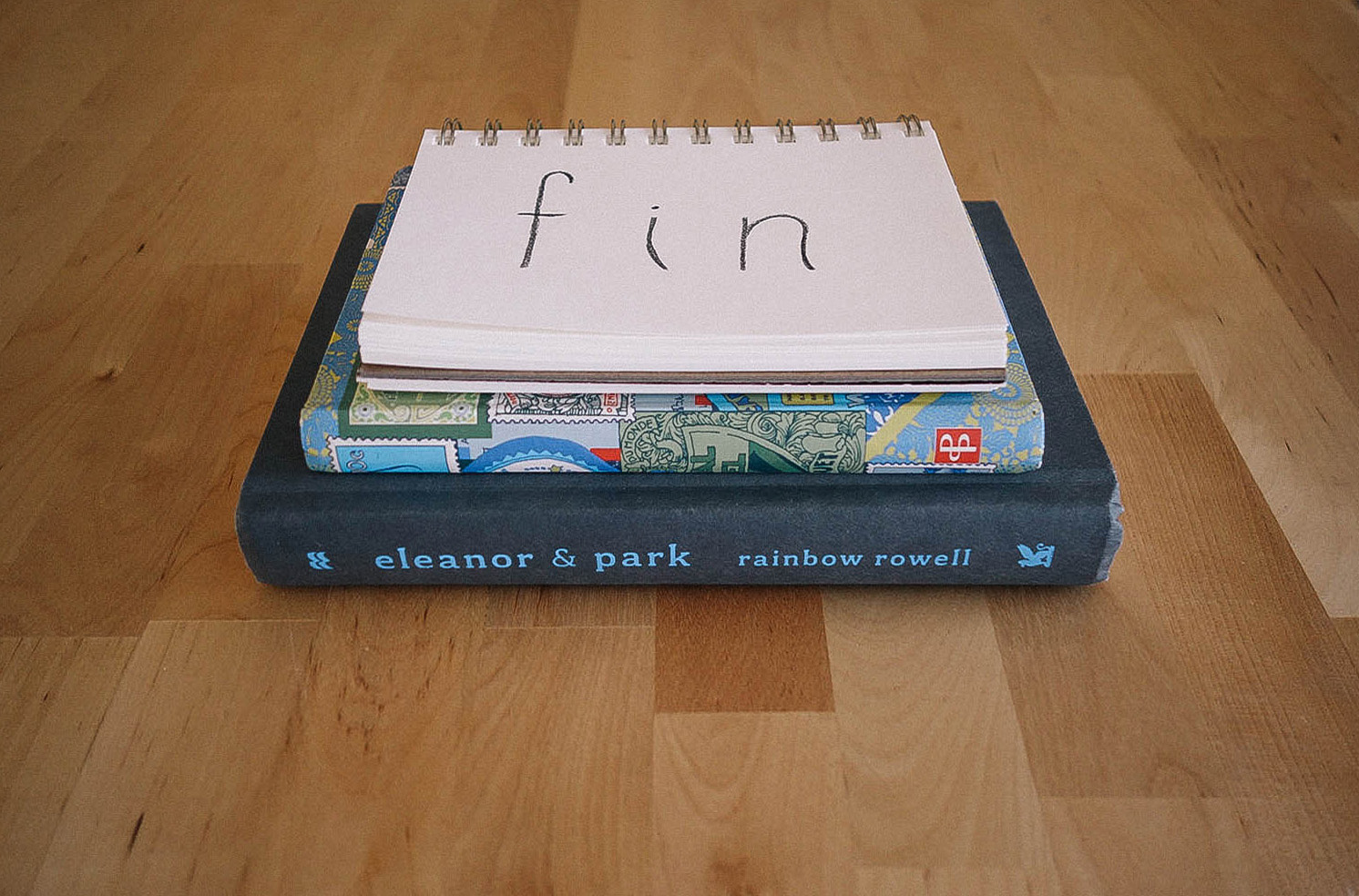 By Yuri H.
Unlike I imagined, Eleanor & Park tells a fairly serious story. The painful moments are frequent and the happy moments are fleeting. The book's cover, showing young protagonists listening to music through intertwined headphones, once again proves true that adage about judging and book covers.
 
Initially, I had thought there was far too much emphasis on the physical appearance of Eleanor and Park. Eleanor is fat, her hair is red and wild, freckles smother her skin, and holes litter her jeans. Park is half-Korean, short, skinny, and sometimes wears eyeliner. The reader is constantly reminded of these details. Given that the book is pretty short, it gave me the impression that physical traits saturate the story.
 
But at some point I finally thought, When was the last time I read a book, in particular a book driven by romance, in which the main characters are fat and/or Asian? Maybe Eleanor and Park's physical traits come off so strongly because they are not carbon copies of attractiveness. If you visit Rainbow Rowell's blog, she actually addresses questions like, "Is Eleanor Fat? Or Does Eleanor Just THINK She's Fat?" and "Why is Park Korean?" Sadly, Rowell is obligated to answer such questions because she gets them from us readers all the time. Eleanor and Park are not idealized (read: thin, attractive, white) fictional characters. This kind of nonstandard beauty in books is rare and important, so if anything, it should be emphasized. Also, maybe it isn't that physical appearances dominate the story, but that we are simply more sensitive to what is different. We are hyperaware of things only when there is something unusual about them.
 
I had also thought Eleanor's homelife was far too abusive to simply be a backdrop in the story. Her alcoholic stepfather is a monster. She shares a closet-like room with four siblings. The neglect is horrifying to the point of distraction, that by the time Eleanor is on the school bus, it's hard to be excited about her reading X-Men with a cute boy. I kept thinking Eleanor's homelife has to be addressed, it has to be resolved.
 
But the terrible truth is that a difficult homelife can in fact simply be the backdrop of someone's life. There is no resolving, there is only surviving, and Eleanor goes beyond survival. She finds love and connection and good despite her circumstance. I may have been too distracted to focus on Eleanor reading X-Men with Park, but Eleanor wasn't. The story does not promise a happy ending, far from it. But it does promise readers that it can happen, it is possible for people to find good in a sea of bad.
That's right. I am officially employed as of last week! I am enjoying the experience as a newbie so far, and I am looking forward to learning more stuff ahead. I feel so blessed to have been brought to a company that has a very nice working culture and environment, and having to spend most of my office hours with a super cool boss and a funny teammate. I have talked to some psych batchmates recently regarding their work experience and most of them do not like the current work that they are in. Some have plans of resigning by the end of their 6th month, while I heard one who already resigned by his 2nd month of stay. I heard a lot of stories about corporate being such a tough nut to crack, and I agree that being in the corporate world exposes you to the politics of the adult world that can be very surprising and tough. But so far, I feel very welcomed by the whole HR team that I currently belong in, and they are not the scary people I thought they might be (well, except for the two ultimate bosses of HR. Gotta be cautious around them;>). I am not that ambitious too (yet) to even involve myself in the palakasan aspect of work. All I know is that I have to learn everything that I have to learn, perform my best in each new task given to me, and just enjoy the ride. I am happy to tell you that I don't have scary stories to say on my part as a new corporate gal. I hope there will never be! :)
Cheers to new beginnings!